Profile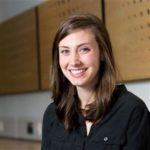 Christina Carlisi
My CV
Education:

I grew up in the U.S., so my education history is a bit unusual. I completed my undergraduate degree in 2011 at the George Washington University (Washington, DC) in global public health. After university, I completed a 2 year research training fellowship at the National Institute of Mental Health (NIH) before moving to the UK in 2013 for my PhD in child & adolescent psychiatry at the Institute of Psychiatry, Psychology and Neuroscience (IoPPN), King's College London.

Qualifications:

PhD, child & adolescent psychiatry (2017); BA, global public health (2011)

Work History:

After university, I worked at the National Institute of Mental Health (NIMH), part of the US government research institute, the National Institutes of Health (NIH). After my PhD, I took up my postdoctoral fellowship at University College London (UCL) with a joint collaboration at Duke University in the US.

Current Job:

Postdoctoral research fellow at UCL
My Interview

How would you describe yourself in 3 words?

Enthusiastic, inquisitive, independent

What did you want to be after you left school?

A doctor

Were you ever in trouble at school?

Nope!

Who is your favourite singer or band?

I couldn't possibly choose just one!

What's your favourite food?

Depends on my mood, but probably thai food

Tell us a joke.

Why is Pavlov's hair so silky? Classical Conditioning.

What topics do you work on?

I'm interested in typical and atypical development of the adolescent brain. Specifically, what social, environmental and genetic factors interact with our neurobiology to shape brain development. By investigating this question using structural and functional magnetic resonance imaging (MRI), I hope to understand why some individuals develop mental health problems while others are resilient. I'm also interested in emotion perception and how individual differences in the way adolescents perceive and interpret emotional expressions may be a risk factor for the development of mental health difficulties.

What methods do you use?

I use neuroimaging – structural MRI to investigate how brain anatomy may relate to the presence/absence of neurobiological risk factors for mental illness; functional MRI to investigate how different regions of the brain communicate with each other while an individual performs a certain task; computational modelling to understand fine-grained mechanisms underpinning individual differences in neural computations driving behaviour.

Who was your favourite teacher?

It's hard to pick just one! I have very fond memories of my high school history teacher, as well as junior year high school biology classes that were my first real foray into what it means to be a scientist.

Me and my work

Typical day

A typical day involves reading scientific articles, writing and editing articles of my own, data collection in schools and universities, and data analysis (lots of screen time!). I also meet with MSc and undergraduate students to discuss ongoing projects.
---
---
---
---