Profile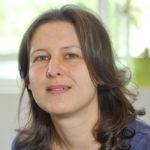 Kinga Morsanyi
My CV
Education:

I did a BSc (Psychology) and MSc (Cognitive Neuropsychology) at the Lorand Eotvos University in Budapest, Hungary. I also did a PhD on "The development of reasoning heuristics in typical and atypical development" at the University of Plymouth, UK, and received a Postgraduate Certificate in Teaching and Learning in Higher Education from Queen's University Belfast, UK.

Qualifications:

Work History:

I have worked as a postdoctoral researcher at the University of Geneva (Switzerland), and the University of Cambridge (UK).

Current Job:
My Interview

How would you describe yourself in 3 words?

curious, driven, analytical

What topics do you work on?

I have a background in the development of reasoning skills in typical development and in special populations (in autism, and in developmental dyscalculia). I am particularly interested in reasoning heuristics, probabilistic reasoning, analogical reasoning and thinking about the future and making personal plans.  Another line of my research concerns mathematical abilities and mathematical anxiety, and the links between reasoning and mathematics, and how these skills can be improved by training and education. I am also interested in decision making and risky behaviour.

What methods do you use?

I mostly use lab-based tasks, where I manipulate different aspects of the tasks to see how these manipulations affect people's responses and their performance. I also use self-report questionnaires. I have contributed to the development of some measures to assess reasoning skills. In some studies, I measure reaction times, which can be informative in seeing how much effort people invest in a task, or how easy it is for them to solve it. Sometimes I also use physiological measures. For example, skin conductance responses can be used as indicators of stress and anxiety, and electromyography can be used to record the activity of muscles. Small muscle activations might indicate the initiation of movements that have not been completed. This might mean that a person intended to do something, but then they changed their mind.

Who was your favourite teacher?

I enjoyed many subjects at school, including literature, mathematics, physics, languages and music. I had several teachers who really inspired and motivated me.

Me and my work

I am working at the intersection of developmental, cognitive and educational psychology. My interest is in thinking, reasoning and mathematics – how these skills develop, how they can be improved by education, and how they relate to people's everyday behaviour and the decisions that they make. I am also interested in special populations, such as people with autism and people with mathematics difficulties.

Typical day

I divide my time between teaching, research and meetings with colleagues and students. I have several international collaborators, so my meetings often happen online. I am also reviewing and editing papers. If I have some "free time", I make plans for new projects, and try to develop some new methodological skills to use them in my work.
---
---
---
---