Profile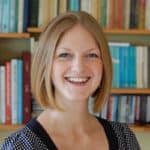 Lucy Cragg
My CV
Education:

2004-2007: DPhil, University of Oxford. 2001-2004: BA Experimental Psychology, University of Oxford. 1999-2001: The King's School, Peterborough. 1994-1999: Arthur Mellows Village College, Peterborough.

Qualifications:

Work History:

2008-present: School of Psychology, University of Nottingham. 2007-2008: Brain & Body Centre, University of Nottingham.

Current Job:
My Interview

What topics do you work on?

My research investigates the development of executive functions (e.g. manipulating information in memory, flexible thinking, ignoring distractions) and their role in academic achievement, particularly maths, in typically developing children (www.sumproject.org.uk) and children born preterm (www.prismstudy.org.uk)

What methods do you use?

I primarily use behavioural methods – assessing children on standard neuropsychological tests and other measures we have developed ourselves. Some of my research also involves electroencephalography (EEG), a technique to measure electrical activity in the brain.

Who was your favourite teacher?

Mrs Burford, my year 3 teacher at Werrington Junior School. She definitely inspired my love of learning.

Me and my work

I am a lecturer in developmental psychology based at the University of Nottingham with a research interest in the general cognitive/thinking skills that support children's learning.

Typical day

I try and keep my mornings clear for research tasks, such as analysing data or writing papers. In the afternoons I might be meeting with undergraduate or PhD students, preparing teaching, doing admin or attending seminars.
---
---
---
---