Profile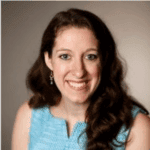 Rebecca Gotlieb
My CV
Education:

Dartmouth College (2008-2012) University of Southern California (2014-present)

Qualifications:

B.A. Psychology and Brain Sciences, Mind, Brain and Education (High Honors) Lecturer, University of Southern California, "From Synapses to Schools: Applying Educational Neuroscience to Contemporary issues in Education" International Mind Brain and Education, Trainee Board- Co-President

Work History:

I worked for two years at Abt Associates in Cambridge, Massachusetts conducting education policy research about teacher professional development and teacher preparation programs with an emphasis on their impact in high needs schools.

Current Job:

PhD Candidate, University of Southern California
My Interview

What topics do you work on?

My research focuses on social-emotional development during adolescence. Specifically, I am interested in how empathic and perspective-taking abilities develop behaviorally and neurophysiologically and their role in students' learning.

What methods do you use?

I use a combination of qualitative (e.g., in-depth interviews), behavioral (e.g., surveys, cognitive assessments), and neuroimaging (e.g., fMRI) methods.

Who was your favourite teacher?

My high school photography teacher who gently encouraged independent thinking and unconventionality. Also, my undergraduate advisor, Professor Michele Tine, who is an inspiration and an incredible mentor.

Me and my work

I am a PhD candidate at the University of Southern California. When I am not studying adolescents' empathic perspective-taking abilities, I enjoy distance running and reading the New York Times.
---
---
---
---