Profile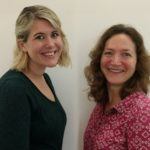 Teensleep Team
My CV
Education:

Gaby – University of Bristol BSc Politics, University of East London GradDip Psychology, Oxford Brookes University MRes Developmental Psychology, Oxford Brookes University PhD Psychology / Rachel – University of Surrey BSc Biochemistry(medical), Northumbria University PhD Psychology

Qualifications:

Gaby – BA, GradDip, MRes, PhD / Rachel – BSc, PhD

Work History:

Gaby – Institute of Psychiatry, King's College London; Oxford Brookes University / Rachel – Division of Sleep Medicine, Harvard Medical School; University of Surrey, Clinical Research Center

Current Job:

Postdoctoral Researchers on the Teensleep project
My Interview

Tell us a joke.

Did you hear about the man who invented the "Knock Knock" jokes? He won a Nobel prize.

What topics do you work on?

As part of the Teensleep team, we conduct research evaluating adolescent sleep and the impact insufficient sleep can have on learning and health and wellbeing. At puberty, the biological clock (circadian rhythm) shifts 1–3 hours later. This biological change, coupled with psychosocial factors such as social media use and more autonomy around bedtimes, may result in adolescents heading to bed later and reduced sleep. We know from our pilot work that adolescents in the UK are not achieving the sleep duration recommended by the National Sleep Foundation (8–10 hours). Although the reason why we sleep still alludes us, we do know that sleep is essential for memory, physiological health, and mental health. Therefore, we are looking at various interventions, from teacher-led sleep education lessons to changing the classroom environment, as a way to improve adolescent sleep.

What methods do you use?

We are currently using a 10-lesson sleep education programme that we designed as a way of improving sleep knowledge and, hopefully, changing sleep behaviours. Our programme was designed to be discursive, teacher-led, and delivered to year 10 pupils in PSHE/Form time. We have just finished trialling this in 10 UK state schools. The programme consisted of a half day training session for teachers, student and teacher workbooks, and PowerPoint presentations. Sleep knowledge was assessed with quizzes. Sleep was evaluated with surveys, sleep diaries and wrist-based motion tracking devices. We evaluated sleep knowledge and sleep before and after the lessons in the 2016 winter term. We hope to be able to share the data soon and begin a larger trial.

Who was your favourite teacher?

Gaby – my favourite teacher was Mrs Swift – geography teacher who instilled in me a love of travelling and exploring the world around us

Rachel – my favourite teacher was Mr T. Gaylor – science teacher who ignited my passion for research and investigation.

Me and my work

We are both Postdoctoral Researchers on the Teensleep project and are working our way through the large pilot data set (around 1500 children took part!). We are preparing our results for publication, preparing conference talks, completing public engagement events on sleep, giving consultancy/advice on projects, and teaching/training students in sleep medicine.
---
---
---
---