Profile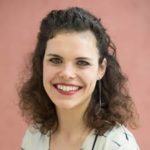 Anne de Bruijn
My CV
Education:

2009- 2015; Radboud University Nijmegen, 2015 – present; University of Groningen

Qualifications:

BSc Pedagogical and Educational Sciences, MSc Educational Sciences & Research Master Behavioral and Social Sciences

Current Job:
My Interview

What topics do you work on?

My research focuses on the relations between children's physical and cognitive development. I am especially interested in the effects of different types of physical activity on children's academic achievement. I further examine whether physical activity results in better performance via changes in the brain.

What methods do you use?

I do my research mainly at schools using behavioral methods (standardized achievement tests, questionnaires), but I also use neuroimaging (i.e.  fMRI).

Who was your favourite teacher?

My favorite teacher was my fifth grade teacher 'meneer Kees'. I can still remember some of his jokes.

Me and my work

I am currently in the third (of four) year of my PhD. Last year, I conducted a large study together with my colleagues in which we implemented two physical activity interventions at 22 primary schools in the Netherlands. I am currently examining the effects of these programs on children's academic achievement and on their brain functioning. In practice, this means that I am doing a lot of statistical analyses.

Typical day

I like to start early; most of the time I'm at the office around 8:00, drinking a cup of coffee. I have two offices: one at the educational sciences department and one at the neuroimaging center, meaning that I'm cycling through town several times a day (luckily, my offices are only a 5 minute cycle apart). At the moment I spend most of my time doing statistical analyses, but I'm also busy writing my thesis.
---
---
---
---