Profile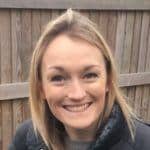 Catherine Gammon
My CV
Education:

Michigan State University (2012-2016), Loughborough University (2008-2009), University of Bath (2004-2008)

Qualifications:

Work History:

MEND Childhood Obesity Treatment and Prevention Programme (2011-2012); Nuffield Health (2009-2011)

Current Job:

Postdoctoral Research Associate
My Interview

What topics do you work on?

My work focuses on understanding predictors and consequences of physical activity among adolescent populations, particularly adolescent girls. For the last 15 months I've been working on a project called 'CASE' (Creating Active School Environments); I've been testing if it's feasible and acceptable to implement 'active lessons' in UK secondary schools. The wider aim of the project was to explore ways the school environment could be modified to increase adolescent's activity levels and reduce sitting time.

What methods do you use?

My work on physical activity interventions has involved the use of pre-post study designs as well as randomised-controlled trials. I have also worked on cross-sectional observational projects and a longitudinal mediation study.

Who was your favourite teacher?

In primary school, Mrs Vernon – for her kindness, consistency, and reasonable nature. During my undergraduate and graduate degrees – Dr. Sean Cumming and Dr. Claudia Holzman for their excellent teaching, encouragement, and ability to inspire curiosity.
---
---
---
---