Profile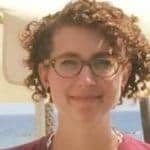 Courtney Pollack
My CV
Education:

University of Pittsburgh 2000-2003; Harvard University 2008-2009, 2010-2016

Qualifications:

B.S. Mathematics; B.A. Philosophy; Ed.M. Mind, Brain, Education; Ed.D. Human Development & Education

Work History:

Math teacher; Education researcher; Perennial student

Current Job:

Postdoctoral Researcher, Numerical Brain Lab
My Interview

What topics do you work on?

I'm interested in how we understand and reason with number symbols – whole numbers like '3' or rational numbers like '2.5,' or variables like 'x.' I'm also interested in how our ability to work with number symbols relates to mathematical competence more broadly.

What methods do you use?

I primarily use behavioral methods (computer tasks, written math/reading assessments) and also neuroimaging methods (MRI).

Who was your favourite teacher?

My 8th grade algebra teacher Ms. Bonesteel and my 9th grade social studies teacher Mr. Krause. They emphasized critical thinking, independence, and humor.

Me and my work

I'm enjoying working on too many projects, which involve how learners understand variables, how digit-related brain activity relates to math achievement, and how learners reason with rational numbers.

Typical day

From the outside, it looks like me sitting at a computer, trying to master the Pomodoro technique. From the inside, it's much more exciting! I analyze data, write manuscripts, develop research ideas, and connect with mentors and mentees. I also have daily informal chats with colleagues to think through problems or ideas that we have.
---
---
---
---