Profile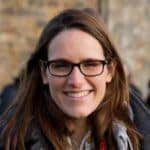 Delia Fuhrmann
My CV
Education:

I did my undergrad in Psychology at the University of St Andrews in Scotland. I enjoyed research so I went on to University College London to do my PhD in Cognitive Neuroscience.

Qualifications:

BSc Hons Psychology and PhD in Cognitive Neuroscience

Current Job:
My Interview

What topics do you work on?

I am interested in lifespan development, learning and plasticity. My current research focus is executive functions, such as reasoning and working memory, and their neural substrates.

What methods do you use?

I have done experimental behavioural and neuroimaging studies in the past, including a cognitive training study in schools. I am currently working with large, publicly available data-sets and use multivariate statistical tools like Structural Equation Modelling to better understand cognitive development.

Who was your favourite teacher?

There were several teachers who had a big impact on me. My Maths teacher showed me how fun problem-solving is and my English teacher made me want to go out and explore the world.

Typical day

Every day is a little different but I spend several hours analyzing data or writing up results for presentations or papers. I also do some teaching in Experimental Psychology.
---
---
---
---