Profile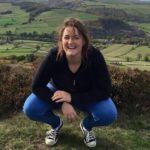 Emma Blakey
My CV
Education:

I did my PhD in Developmental Psychology at the University of Sheffield. Before this, I did a Masters in Psychological Research and an undergraduate degree in Philosophy and Psychology at the University of Sheffield. I studied for my A-levels and GCSEs at Eckington School, Derbyshire.

Qualifications:

Work History:

Jan 2017 – present: Lecturer, University of Sheffield. Jan 2016 – Dec 2017: Postdoctoral researcher, School of Psychology, Cardiff University. In my final year as a PhD student I was also a visiting researcher in the ABCD Developmental Psychology lab at the University of Alberta.

Current Job:
About Me:

I am a lecturer in Developmental Psychology at the University of Sheffield.
My Interview

What topics do you work on?

I study how young children develop the ability to control and regulate their behaviour. The set of cognitive, or thinking skills, that allow children to do this are known as executive functions. I'm interested in how they develop as children get older, how they relate to learning, how and why they differ across children and whether we can improve these skills.

What methods do you use?

I mainly use behavioural measures. This involves testing children on standard tasks designed to measure executive functions or academic skills or using tasks we have designed in our lab.

Who was your favourite teacher?

I have two favourite teachers from secondary school and sixth form. Mr Savage, my RE and Philosophy teacher and Miss Lonsdale my Psychology A-level teacher. Both were amazing educators. They were so enthusiastic and they inspired me to go to University.

Me and my work

I am a lecturer in Psychology and research the development of executive functions in children.

Typical day

One nice aspect of the job is that most days are different. A typical day would involve both teaching and research. The teaching side might involve giving a lecture or tutorial to undergraduates, meeting with students I am supervising to discuss their research, and marking or giving feedback on work. The research side involves supervising research assistants on projects, recruiting local schools/nurseries, analysing data, writing up research for publication, submitting work to conferences, reading other researchers' articles, and planning new studies.
---
---
---
---