Profile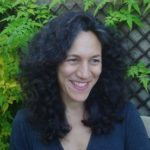 Gaia Scerif
My CV
Education:

Waterford Kamhlaba United World College, University of St. Andrews, UCL

Qualifications:

Work History:

Current Job:
About Me:

I study attention and how it impacts on how we learn.
My Interview

How would you describe yourself in 3 words?

Enthusiastic about development.

What did you want to be after you left school?

A biologist.

Were you ever in trouble at school?

Cannot remember. I deny everything.

What's your favourite food?

Chocolate.

Tell us a joke.

Three Oxford dons want to change a light bulb. "Change? What change?!?"

What topics do you work on?

What methods do you use?

Tablet based assessments, electroencephalography, eye-tracking

Who was your favourite teacher?

My Maths teacher in secondary school, who taught me there were cool things such as on-Rieman geometries.

Typical day

Work work work, eat chocolate.
---
---
---
---