Profile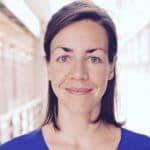 Geneviève Allaire-Duquette
My CV
Education:

I'm completing my PhD studies at Université du Québec à Montréal in Canada, and I am about to start my postdoctoral research internship at Tel Aviv University's School of Education in Israel.

Qualifications:

M.Ed. in Education (2013)

Work History:

My interest in education goes back years as I was a secondary school teacher hoping to develop curiosity about science and mathematics in students as well as providing them with tools for their success. The desire to better understand the challenges students are facing when learning science and mathematics propelled me to undertake graduate studies. I'm now a PhD student and lecturer at Université du Québec à Montréal, Canada.

Current Job:

PhD student in Montreal, Canada
About Me:

PhD student in educational neuroscience
My Interview

What topics do you work on?

My current work at the Laboratory for Research in Neuroeducation in Canada extends current knowledge on learning difficulties in science. Today, frequent difficulties have been identified and it is well known that counterintuitive concepts in, for example, mechanics or biological evolution, are especially difficult to learn. However, the reasons why some students, who benefited from a comparable scientific training, have more difficulty than others to understand these science concepts remained poorly understood. Findings suggest that conceptual understanding in science is associated with the ability to recruit brain circuits involved in cognitive control. Therefore, training cognitive control could help low competence students to succeed in science. Yet, little is known about how instructional guidance can enhance cognitive control mechanisms.

What methods do you use?

I use functional magnetic resonance imaging (fMRI) and behavioural measures (short task/games performed on computers, and also questionnaires)

Who was your favourite teacher?

If I had to pick one I'd choose a math teacher when I was 16y.

Me and my work

I am a PhD student at the Laboratory for Research in Neuroeducation in Montreal, Canada

Typical day

No two days are ever the same. My days involve teaching undergraduate or graduate classes; writing and reading scientific papers, meeting with my supervisor to discuss my progress and the next steps of my study; writing proposals for fellowship and grants; meeting with colleagues to organize conferences and scientific events, etc.
---
---
---
---