Profile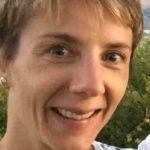 Jo Taylor
Curriculum Vitae
Education

I went to Heathside School in Weybridge for my GCSEs (1993 – 1998), then Esher College for A-levels (1998 – 2000). I did my undergraduate degree in Experimental Psychology at Oxford University (2001 – 2004) and I stayed there for an MSc and PhD (2005 – 2009)

Qualifications

Work History

I have worked at the Medical Research Council Cognition and Brain Sciences Unit in Cambridge (2009 – 2014), Newnham College University of Cambridge (2010 – 2013), and Royal Holloway University of London (2014 – 2017)

Current Job

I am now a lecturer at Aston University

Employer
My Interview

What topics do you work on?

I am interested in how people learn to read. In particular, I investigate how people learn which spellings correspond to which sounds, something that is quite complicated in a language like English! I also want to know more about how we progress from effortfully sounding out words when we first learn to read, to automatically recognising and understanding thousands of words as adults.

What methods do you use?

In lots of my experiments I teach adults to read new words written in unfamiliar symbols, to simulate the process of reading acquisition in the lab. Using this method I've looked at how different aspects of words influence how we learn them, for example how complicated their spellings are or how meaningful they are. I have also looked at whether different teaching methods are more effective than others, e.g., focusing on spelling-to-sound relationships or on meanings. Some of my experiments use brain imaging, particularly functional magnetic resonance imaging, to see whether different types of words require different brain areas, or if our brains represent them in different ways.

Who was your favourite teacher?

I loved my A-Level English Literature teachers, I'd never been in a class where everyone was actually keen to discuss the book/poem before!

Me and my work

I am a lecturer in Psychology at Aston University and my research investigates how we learn to read

Typical day

Sometimes I am giving a lecture, but on other days I am likely to have meetings with undergraduates who I am supervising for their psychology project. At the moment I also have some essays to mark. Besides teaching, I am currently writing an article on how our brain represents newly learned written words. I often also spend time reading other researchers' papers and giving feedback before they are published, or writing an application to go to a conference.  
My profile link:
https://ias.im/u.163540
---
---
---