Profile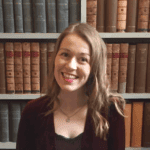 Katie Gilligan
My CV
Education:

2008-2012: B.A Trinity College Dublin; 2012-2013: MPhil University of Cambridge; 2015- present: PhD UCL Institute of Education

Qualifications:

B.A in Neuroscience; M.Phil in Education and Psychology

Work History:

Educational Research Centre Dublin

Current Job:
My Interview

What topics do you work on?

I am interested in factors that influence maths learning. In particular, I explore the role of spatial ability as a predictor of maths performance in primary school children.  I am currently developing tools for improving spatial thinking, and exploring the transfer of spatial training gains to maths. I am also interested in how other factors like the home numeracy environment, maths anxiety and spontaneous focus on number influence maths achievement. 

What methods do you use?

I mostly use behavioural methods and complete lots of my work in schools using computer-based tasks and questionnaires. I also do lots of analysis with secondary data sets such as the Millennium Cohort Study.

Who was your favourite teacher?

My Chemistry Teacher was the first person to show me how interesting Science can be!

Me and my work

I am currently in the final year of my PhD. Before this I worked for two years as a research assistant for the Educational Research Centre in Ireland. I was involved in computer-based assessment and the development of standardised science and maths assessments.

Typical day

One of the great things about a PhD is that every day is different. Some days I visit schools to conduct experiments. I also attend lectures, seminars and conferences. I teach on undergrad and masters courses. I spend time writing, analysing data and collaborating with other students.
---
---
---
---