Profile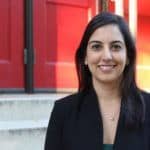 Elizabeth (Liz) Toomarian
Curriculum Vitae
Education

University of California, San Diego (2008-2011); University of Wisconsin-Madison (2013-present)

Qualifications

B.S. Cognitive Science/Neuroscience; M.S. Educational Psychology; Lecturer- University of Wisconsin- "Mind, Brain and Education"

Current Job

Employer

University of Wisconsin-Madison
My Interview

What topics do you work on?

I study the development of math and number knowledge. Specifically, I'm interested in how people think of numbers spatially, like on an imagined number line. This includes work with neurotypical children and adults, as well as adults with synesthesia.

What methods do you use?

I use a combination of behavioral (e.g. computer tasks, pencil-and-paper assessments) and neuroimaging (e.g. MRI) methods.

Who was your favourite teacher?

My favorite and most influential teachers were Ms. Leach (6th grade science) and Mr. Mohney (11/12th grade English)

Me and my work

I'm currently finishing up my dissertation research about the ways in which people associate numbers and space.

Typical day

One of the things I love most about my work is that there is no typical day! That said, I am usually doing some combination of: conducting experiments, analyzing data, writing papers, reading scientific literature, meeting with mentors/peers/mentees, lecturing in undergraduate courses, and attending talks on campus.
My profile link:
https://ias.im/u.163543
---
---
---