Profile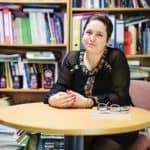 Paula Clarke
My CV
Education:

University of York 1996-1999

Qualifications:

GCSEs (1 A*, 9 As, 1 C); A Levels in English (C), History (B), Art (A); BSc (Hons) Psychology (1st) University of York (1999); PhD Psychology University of York (2005);

Work History:

University of York, Department of Psychology (Graduate Teaching Assistant, Research Assistant, Postdoctoral Researcher, Temporary Lecturer); University of Leeds, School of Education, (Lecturer, Associate Professor).

Current Job:

Associate Professor in Psychological Approaches to Childhood and Inclusive Education
My Interview

How would you describe yourself in 3 words?

kind, hardworking, enthusiastic

What did you want to be after you left school?

A psychologist or art therapist

Were you ever in trouble at school?

Only for my creative interpretation of the school uniform policy

Who is your favourite singer or band?

Kate Bush

What's your favourite food?

Macaroni Cheese

Tell us a joke.

What did the zero say to the eight? - Nice belt! (it is the only joke I can ever remember!)

What topics do you work on?

My research uses psychological theory to inform the development of teaching and intervention approaches. I aim to help children engage with text and experience reading with meaning. My work promotes the development of rich mental representations and emphasizes exploration of ideas in multiple contexts and sharing perspectives.

I lead the MA SEN programme and the PG Cert in Provision of Children with Developmental Disorders. I teach on BA (Hons) Childhood Studies, MA Special Education Needs, MA Childhood Studies, Red Kite SCITT, MA Education and Professional Enquiry. My area of specialism is psychological approaches to child development. The modules I teach cover the following areas:

Learning theories
Social Development
Reading and Language Development
Cognitive Development
Ecological Approaches
Teaching children with Learning Difficulties
Research methods

What methods do you use?

I am interested in how we assess and capture children's understanding of text and how we can develop methodologies that are inclusive and accessible for all. My work is also concerned with research designs to evaluate the impact of educational interventions. I am experienced in using Randomised Controlled Trials (RCTs) and have a developing interest in Design-Based approaches for intervention development.

Who was your favourite teacher?

My art teacher who was incredibly, wonderfully eccentric and extremely passionate about creativity.

Me and my work

I was on track to develop a career in the arts but then towards the end of sixth form I changed my mind completely and decided instead to pursue my interest in Psychology. So I turned up at the University of York to do a very scientific programme of study having just completed three arts based A levels; it was a challenge but one which I thrived on and enjoyed a great deal. It turned out to be an excellent decision and I have been very fortunate to have had some outstanding mentors cheering me on and inspiring me. I have always been most interested in the application of Psychology to Education and in particular in understanding and supporting pupils with particular learning needs. My PhD was on the topic of Memory in individuals with Autism, an interest which I still maintain. My main focus however for the past 10 years or so has been on the development and evaluation of theoretically informed methods to support the development of reading and language comprehension skills.

Typical day

I feel privileged to have a job which has a degree of autonomy and gives me the opportunity to follow my own interests and research agenda. When I am not teaching, preparing lectures, supervising students and attending meetings, I am usually developing research proposals and working on journal articles. If I have an active research project then I may be visiting schools, training teaching assistants, developing intervention materials and assessments, completing ethics reviews and analysing data. The role is incredibly varied and changes throughout the year – the only typical thing is that each day is usually very busy!
---
---
---
---